Download Now!
Inesoft Address Book - (Additional Name Phones and Fields, Instant Search, Ring Tones and Profiles)
1.19
Inesoft Address Book - (Additional Name Phones and Fields, Instant Search, Ring Tones and Profiles)
1.19
Address Book is the best contact manager with full compatible Outlook. Incredible easy and fast way to create new and edit exist contacts.
Last update
20 Mar. 2006
Licence
Free to try |

$14.95
OS Support
Mobile
Downloads
Total: 492 | Last week: 0
Ranking
#40 in Productivity
Publisher
Inesoft
Inesoft Address Book - (Additional Name Phones and Fields, Instant Search, Ring Tones and Profiles) Publisher's Description
Inesoft Address Book the most convenient way to manage contacts on Windows Mobile device.
Among unique advantages, Address Book gives an opportunity to note unlimited quantity of additional phone numbers, e-mail addresses, instant messenger IDs, dates and addresses.
The search system works instantly and will find a required line even if it is written down as a note.
Address Book it is completely compatible with ActiveSync, Outlook, Pocket Informant and similar. Therefore All that will be create and edit in Address Book is accessible and to other programs at any time.
Phone Edition device owners will enjoy Caller ID function that allows easy managing phone functions, switching between profiles, and displays caller's name and photo with customized Ring Tone.
Among other features, Address Book as well as Today plug-in has the ABC T9 system for fast search with possibility to adjust for any language. A new system of creating and editing contacts makes the program convenient and irreplaceable in a daily life..
Full information
In Address Book you can have your own fields for the additional information. There is no more necessity to think where to write down more phone numbers, e-mail addresses and any other information when the standard form is full.
There is also a place for casual notes - every contact can have for example as many anniversaries as you wish. As well it is easy to add a photo to any contact.
Today Screen
Often it is required to find a contact quickly, not wasting time on starting or switching between apps. For this purpose Address Book has a Today ABC Bar T9 plug-in allowing directly from that window finding a contact with two clicks and making a call, sending an SMS or e-mail.
Caller ID with Photo Contact and Ring Tones
If you receive a call, caller's name and photo will be displayed. You can set a personal ring tone for any category and contact. Address Book enables changing a Ring Tone profile quickly suitable to current conditions: Outdoor, Meeting, or if you wish to accept calls from family or friends only.
T9 ABC Bar
ABC Bar allows finding a contact with two clicks thanks to wise T9 system. The ABC is fully customizable for any language.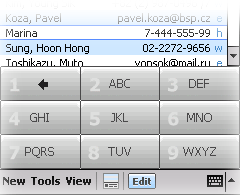 Skilful Number
Distinguishes number and formats it for convenient viewing. Now there is no necessity to place spaces or dashes to have a phone number presented in a legible kind. Now it happens automatically.
Active contact
Using Address Book you can easily make a call, send e-mail or SMS. It is easy to send a contact through BlueTooth or IrDA to other device.
ActiveSync
If you are going to replace your mobile device with a new one, no unique data like your own fields will be lost ? it will be copied from MS Outlook via ActiveSync.
Look for Similar Items by Category
Feedback